1.Our History
Zhengzhou Dongding Machinery Co., Ltd is located in Guangwu Industrial Park, Zhengzhou, Henan, China, with more than 15 year rotary dryer manufacturing experience. The company has passed the ISO9001, ISO14001 and ISO45001 system certification, won the title of national high-tech enterprise, and it was rated as "Integrity Enterprise". We have hundreds of technicians for various projects, and more than 50 patents for coal, biomass, feed and food processing technology.
2.Our Factory
Zhengzhou Dongding Machinery has more than 10 million dollars in fixed assets, annual sales of more than 11 million dollars every year, the existing types of projects technical staff of 56 people, with ores, biomass, feed, food processing technology patents more than 80, and has passed ISO9001-2000, CE, SGS series of certification. Give full play to its own technological advantages, closely around the new energy-saving technologies, with leading technology, sophisticated processing and testing equipment, a sound quality management system, advanced computer management systems and high-quality workforce, Dongding constant output of the most High-quality products and services.
3.Our Product
Rotary dryer, three layers rotary dryer
4.Product Application
The company has core technology system, which integrates the thermal combustion, dehydration, drying, molding, separation and dust removal. Scientific equipment selection and technical process optimization are adopted according to different material characteristics. Currently our equipment has been successfully applied in the coal, feed, biomass fuel, organic fertilizer processing industries. Especially the coal dryers like lignite coal dryer, coal ash dryer, raw coal rotary dryer, coal slime dryer, etc. are well received by the customers at home and abroad.
5.Our Certificate
ISO9001:2016 System Qualified & CE CERTIFICATE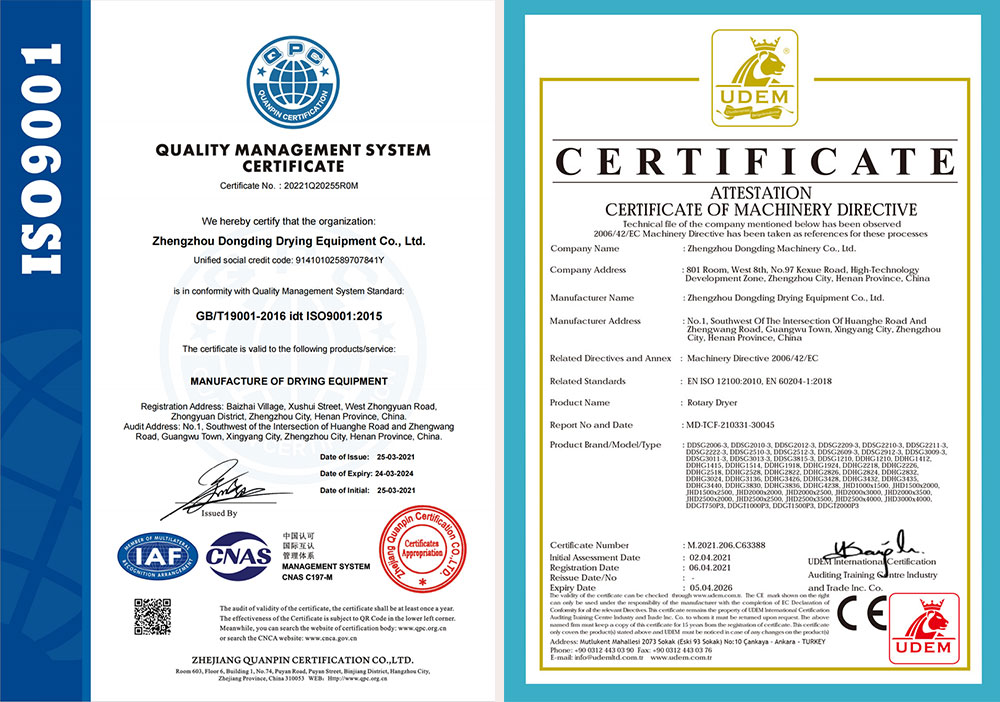 HIGH AND NEW TECH ENTERPRISES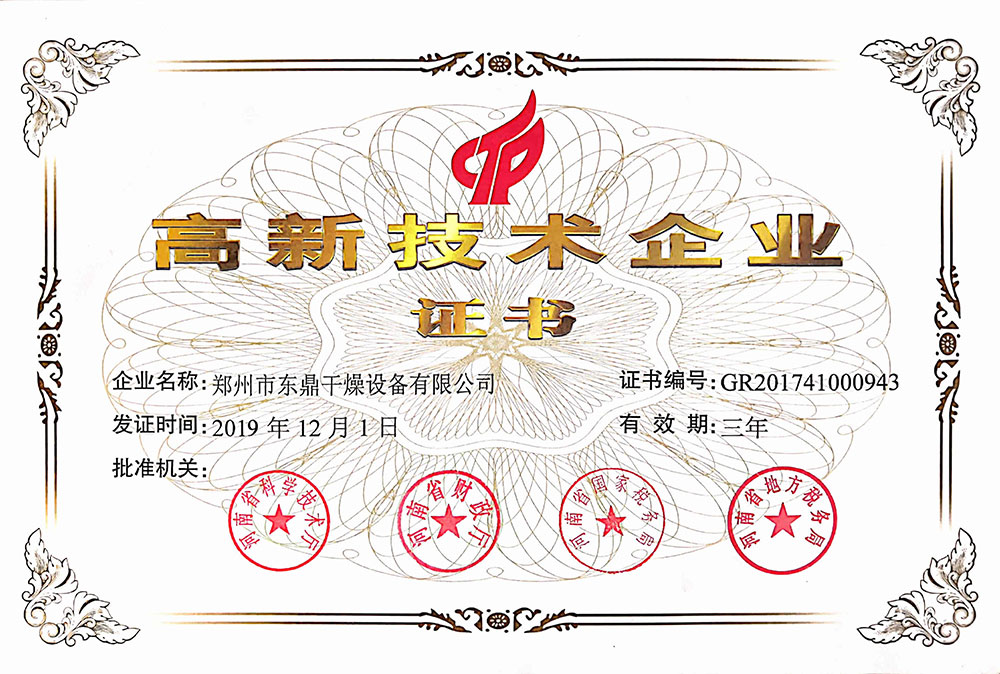 R&D Core Intellectual Property Patent Certificate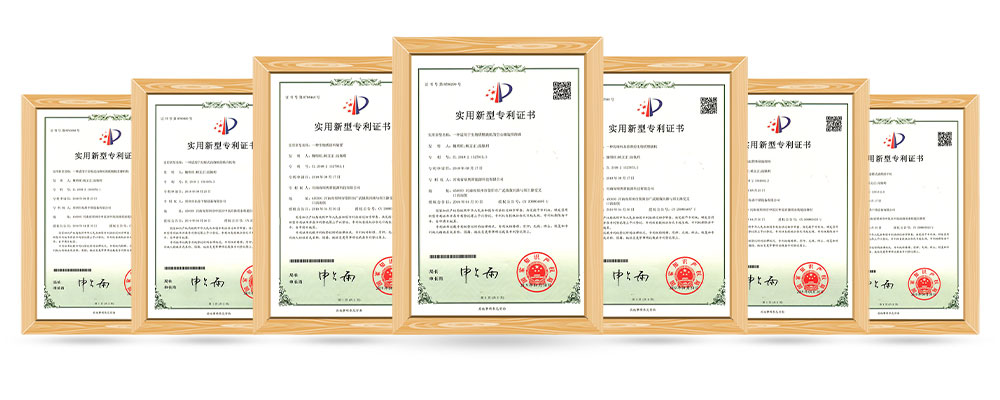 QES MANAGEMENT SYSTEM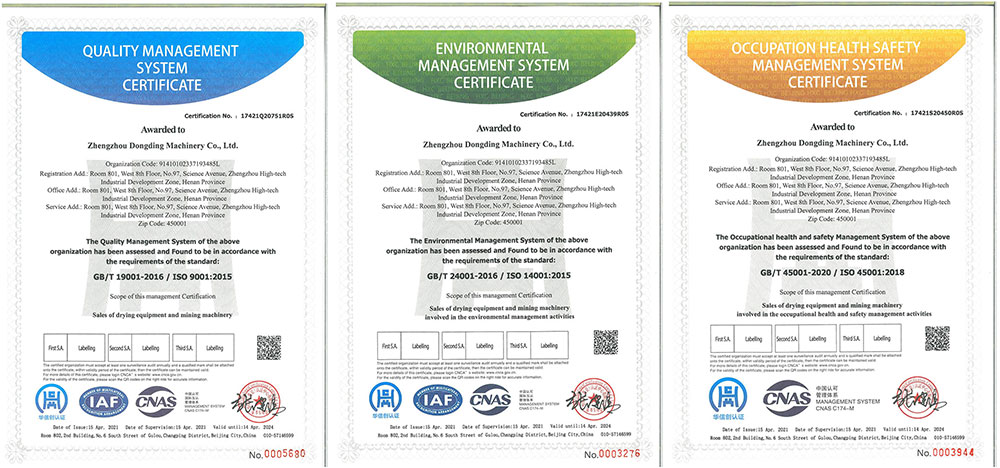 6.Production Equipment
 Production Equipment List
 Department
 Name
Model
 QTY
Production Department
Three roll bending machine
W11-40*2500B
1
Welding Machine
NB-500K
1
Welding center
HCJZ-5*5
1
Welding center
5*5
1
Electric single beam crane
LD5T-14M
1
Electric single beam crane
LD16T-18.02M
1
Gantry crane
10T-20M
1
Electric welding machine
ZX7-500
1
Gas shielded welding machine
NBC-500
2
CNC cutting machine
1560
1
Electric welding machine
ZX7-500S
1
Electric welding machine
ZX7-400
10
Gas shielded welding machine
500
2
DC welding machine
500
3
Portable bearing heater
3010
1
Gantry CNC cutting machine
3010
1
Inverter welder
NBC-500
1
Electric welding machine
LGK-120
1
Submerged arc welding machine
MZ-1000
1
Electric welding machine
NBC-500
1
7.Production Market
Our products have been approved by customers in China and other parts of the world and successfully sold to many countries and regions in Indonesia, South Africa, Vietnam, Thailand, Myanmar, India and Egypt, Iran, Bangladesh, Uzbekistan, etc.
8. Our service
Zhengzhou Dongding Machinery Co., Ltd. focuses on the R & D and manufacturing of technical equipment for clean purification and utilization of biomass energy and recycling of high humidity waste residue and waste liquid. It is a high-tech enterprise integrating R & D design, production and installation, production trusteeship, sale, after-sales service and technical consultation.