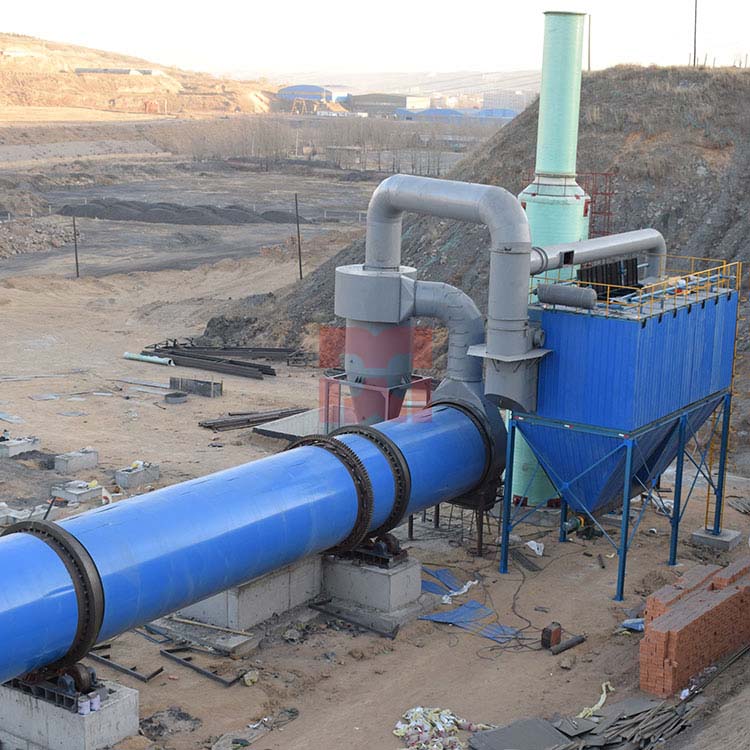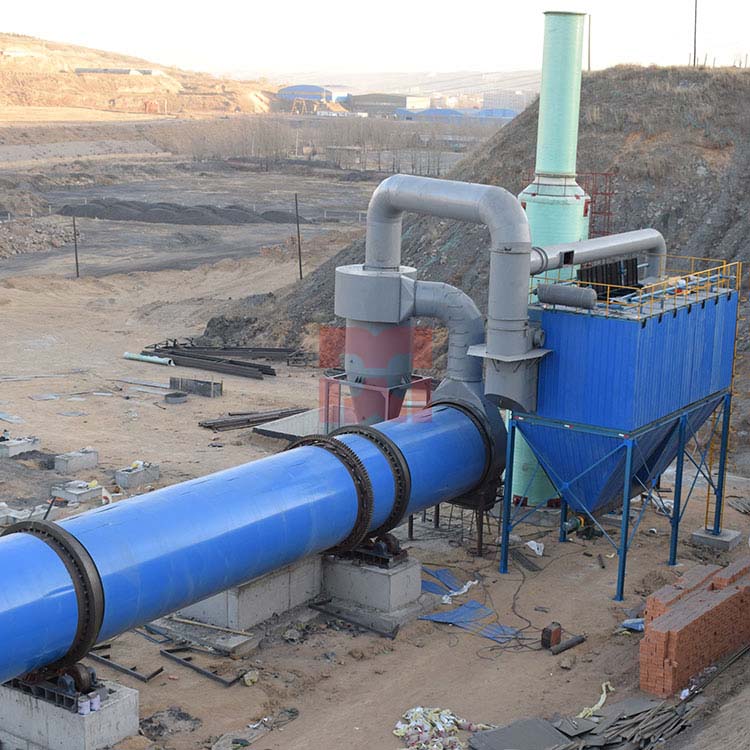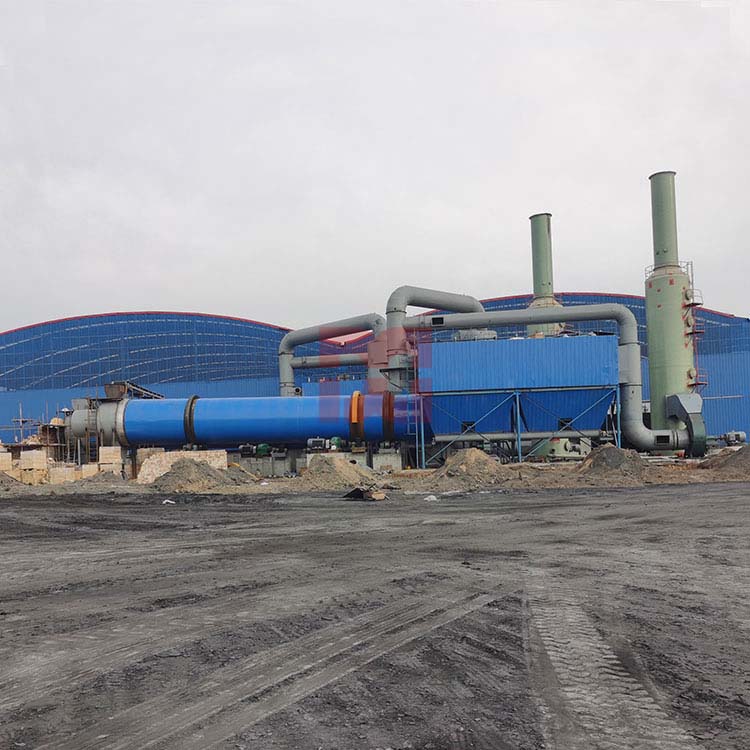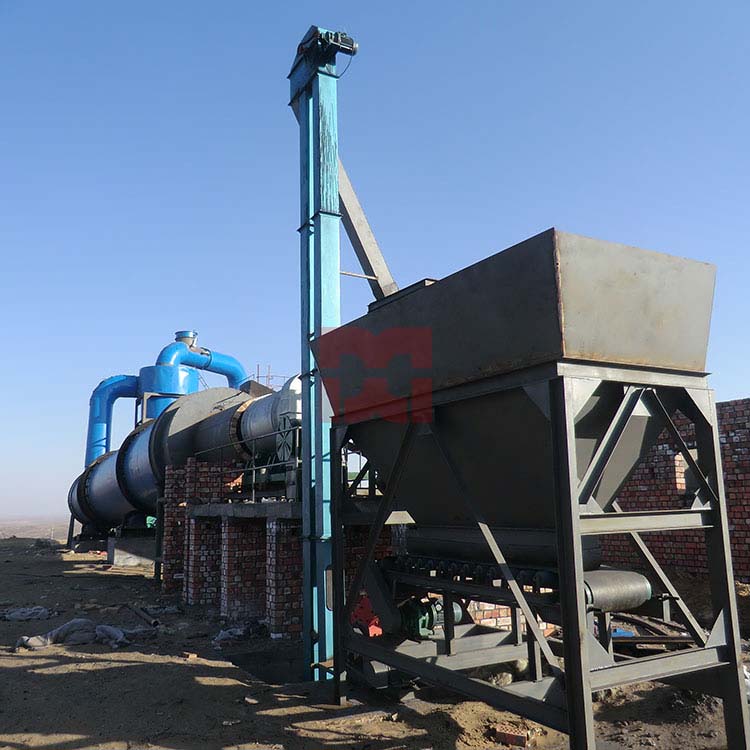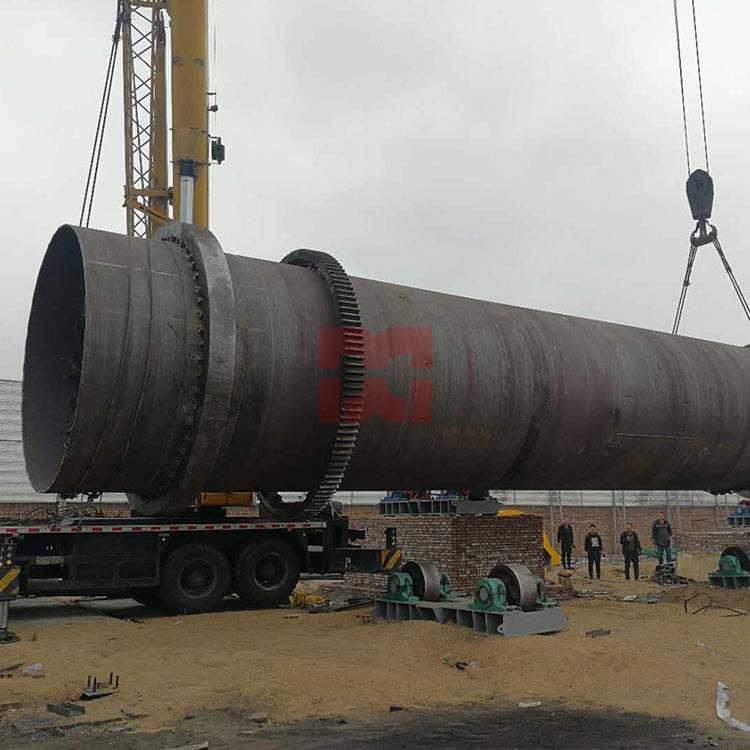 Gypsum Dryer
The gypsum powder dryer is a horizontal cylindrical rotating device. During the rotation, the internal drying medium is in full contact with the wet gypsum powder. The gypsum absorbs the heat of the drying medium, and discharge out of the cylinder during the rotation. Gypsum rotary dryer has the advantages of reliable performance, low failure rate, stable operation, high operation rate, large daily processing capacity, energy-saving, etc. The annual processing capacity is 50,000-200,000 tons according to the user's demands.
Gypsum Rotary Dryer Features
1.  Strong overload resistance, large capacity, low fuel consumption and low drying cost.
2. Adopt downstream drying method, hot air and wet materials enter into the gypsum dryer from the same side, high evaporation intensity can be obtained by using high-temperature air, the outlet temperature of the dryer is low, and the thermal efficiency is high.
3. The operation parameters can be changed according to the properties of different materials.
4. The new feeding and discharging device eliminates the feeding blockage, discontinuity, nonuniformity and return of the drum dryer, and reduces the load of the dust removal system.
5. The dryer realizes "zero horizontal thrusts", greatly reduces the wear of the retaining roller, and the cylinder runs smoothly and reliably.
6. The dryer adopts a "self-aligning supporting roller device", which makes the supporting roller and rolling ring in linear contact forever, thus greatly reducing the wear and power loss.
7.  Clean coal, biomass, oil and gas, steam waste heat and other thermal equipment can be selected to solve environmental problems.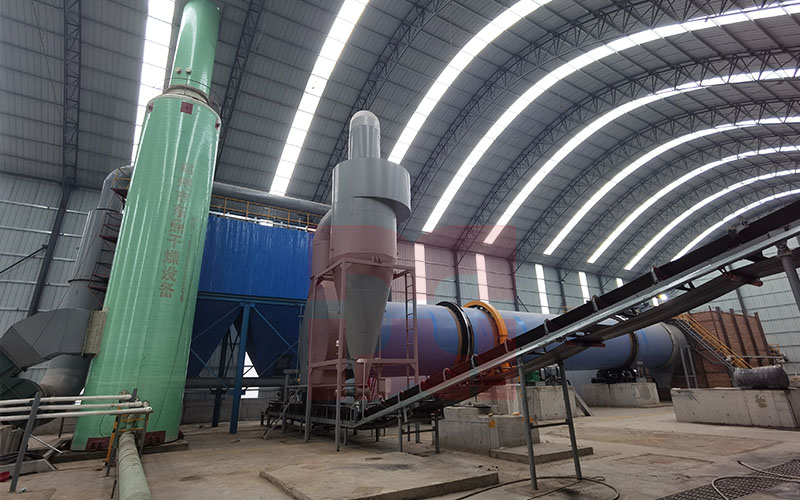 Gypsum Dryer Application
The rotary dryer is suitable for drying powder and granular materials with special requirements, like gypsum, desulfurization gypsum, titanium gypsum, phosphogypsum, fluorgypsum, ore, blast furnace slag, coal, metal powder, phosphate fertilizer, ammonium sulfate, etc.
Performance Advantages of Gypsum Dryer
* Gypsum rotary dryer can be configured with different drying temperatures and drying times to realize drying automation.
* Stable cylinder rotation and a high degree of automation can achieve remote control, humanization design and convenient operation.
* In the drying process, the contact surface area between gypsum powder and drying medium is larger, and the drying efficiency is higher.
* In the drying process, there will be no sticking phenomenon on the inner wall of the cylinder, and the dispersing device is more reliable.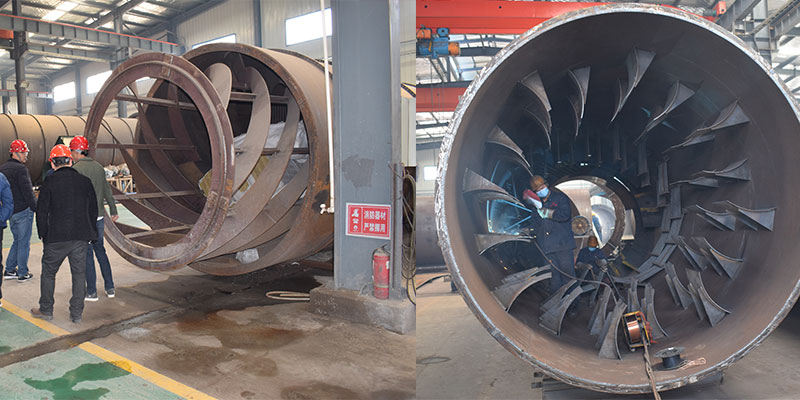 Working Principle of Gypsum Rotary Dryer
Gypsum raw materials are delivered into the hopper by belt conveyor and then enter into the drying system by feeding mechanism. The guide device installed in the rotary dryer will lift the materials to the top and drops them. The materials are broken by the high-speed rotating blades in the dryer when falling down. It is repeated until moving to the outlet. At the same time, the hot air generated by the high-temperature heat source enters into the dryer to fully contact with the materials, so that the materials are dried quickly, and then discharged through the conveyor at the discharge end.
Technical Parameters
Specification
Capacity
(T/D)
Initial Moisture
(%)
Final Moisture
(%)
Total Power
(kw)
Floor Area
(m2)
DDMG1918
300±10
25±5
≤12
109
7m*25m
DDMG2218
500±30
25±5
≤12
128
8m*30m
DDMG2520
700±30
25±5
≤12
240
8m*30m
DDMG2822
1000±30
25±5
≤12
400
8m*40m
DDMG3024
1200±30
25±5
≤12
480
12m*50m
DDMG3428
1500±30
25±5
≤12
600
12m*60m
DDMG3830
1800±30
25±5
≤12
800
16m*70m
DDMG4032
2000±30
25±5
≤12
1000
18m*70m
DDMG4238
2500±30
25±5
≤12
1200
20m*80m