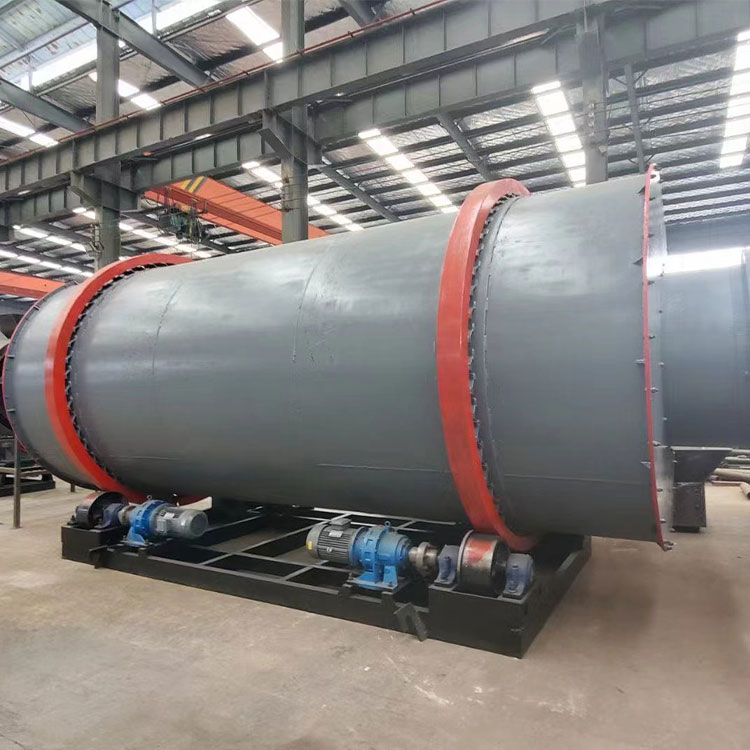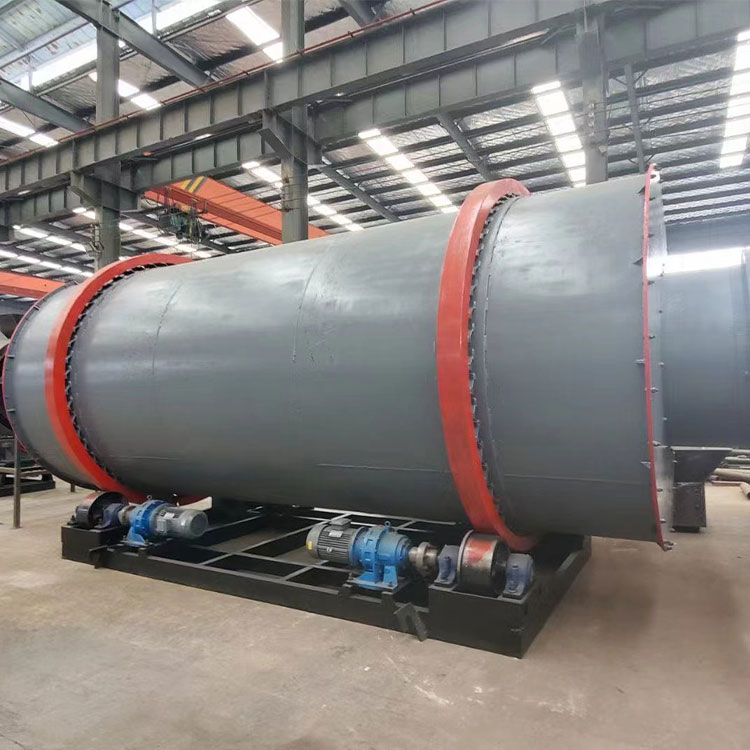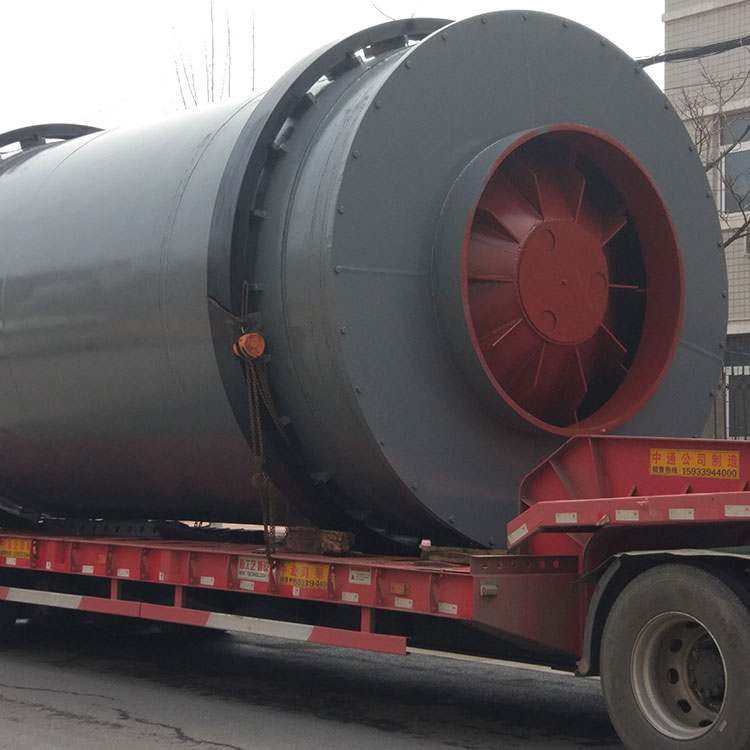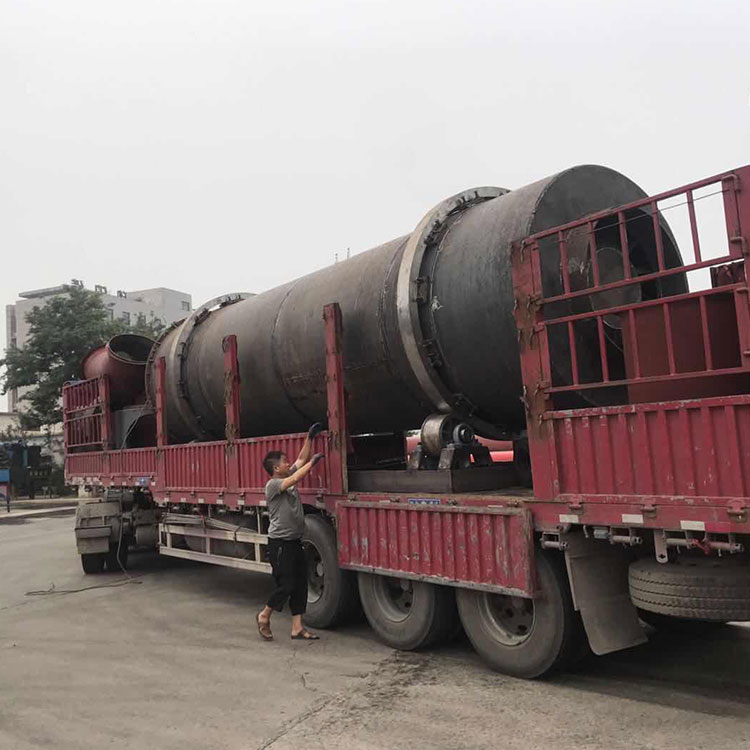 Sand Dryer
Sand dryer is three-drum drying equipment for processing a large number of materials. It is generally suitable for drying granular materials, especially for drying sand, river sand and quartz sand with an excellent drying effect. Due to the reliable operation, simple operation, strong adaptability, large processing capacity, energy conservation and environmental protection, the rotary sand dryer is widely used in building materials, chemical industry, casting, wall insulation and other industries.
Main Features of Rotary Sand Dryer
1. The inner part of the sand dryer is made of wear-resistant manganese plate, which is 3-4 times more wear-resistant than ordinary steel plate.
2. Compared with the traditional single drum dryer, the thermal efficiency is increased by more than 40%.
3. The floor area is small, which is about 60% less than that of single drum dryer, and the geotechnical investment is reduced by 60%.
4. There is no air leakage phenomenon, and the sealing difficulty is completely solved.
5. The discharge temperature is less than 60 ℃, it can be directly fed into the warehouse without cooling.
6. The initial moisture content of the material is 15%, and the final moisture content after drying is less than 0.5-1%, which is the first choice for drying engineering such as dry and wet mortar production line.
Rotary Sand Dryer Application
The rotary dryer is suitable for sand drying, such as mineral sand, quartz sand, river sand, yellow sand, sea sand, pomegranate sand, machine-made sand, dry powder mortar, water slag, mountain sand, weathered sand, etc. It is widely used in many industries such as construction, building materials, casting, smelting, chemical, cement, medicine and minerals.
Working Principle of Rotary Sand Dryer
The sand enters into the inner layer of the rotary drum from feeding device to realize downstream drying.
Under the action of lifting board in the inner layer, the materials are continuously lifted and scattered in a spiral way to realize heat exchange. The materials move to the other end of the inner layer and enter into middle layer for counter current drying.
The materials are repeatedly raised in the middle layer, in a way of two steps forward and one step backward. The materials in the middle layer not only fully absorb the heat emitted by the inner drum, but also absorb the heat of middle drum. At the same time, the drying time is prolonged, and the materials achieve a better drying state here. Then the materials move to the other end of the middle layer and enter into outer layer for drying.
The materials move in a rectangular multi loop way in the outer drum. The dried materials move quickly and discharge outside under the action of hot air. The materials that do not achieve the drying effect cannot move quickly because of its own weight. The materials are fully dried in the rectangular lifting board, so as to complete the drying purpose.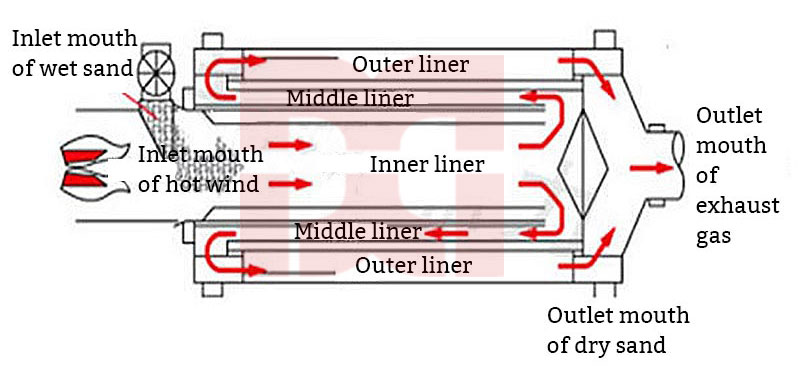 Technical Parameters
Model
Capacity(T/h)
Coal consumption (drying 1t materials)
kg
Total power
River sand
Fly ash
Slag
Φ2.0×2
4-5
2-3
3-5
12-14
5.5kw
Φ2.0×4
8-12
4-6
8-10
12-14
3kw×2
Φ2.0×5
12-15
6-7
10-13
10-12
4kw×2
Φ2.2×4.5
14-18
7-9
12-15
10-12
5.5kw×2
Φ2.5×6
23-28
10-13
20-22
10-12
5.5kw×4
Φ2.8×6
30-35
15-18
25-30
10-12
5.5kw×4
Φ3.0×6
35-40
18-20
32-35
8-10
7.5kw×4
Φ3.0×7
40-45
20-25
35-40
8-10
7.5kw×4
Φ3.2×7
45-50
25-30
40-45
8-10
11kw×4
Φ3.2×8
50-55
30-35
45-50
8-10
11kw×4
Φ3.6×8
60-70
35-40
60-65
6-8
15kw×4
Φ3.8×9
70-80
40-45
70-75
6-8
15kw×4
Φ4.0×10
90-100
45-50
80-90
6-8
18.5kw×4
Φ4.2×8.5
80-100
45-60
80-90
6-8
18.5kw×4
(The moisture is :15%~1%)