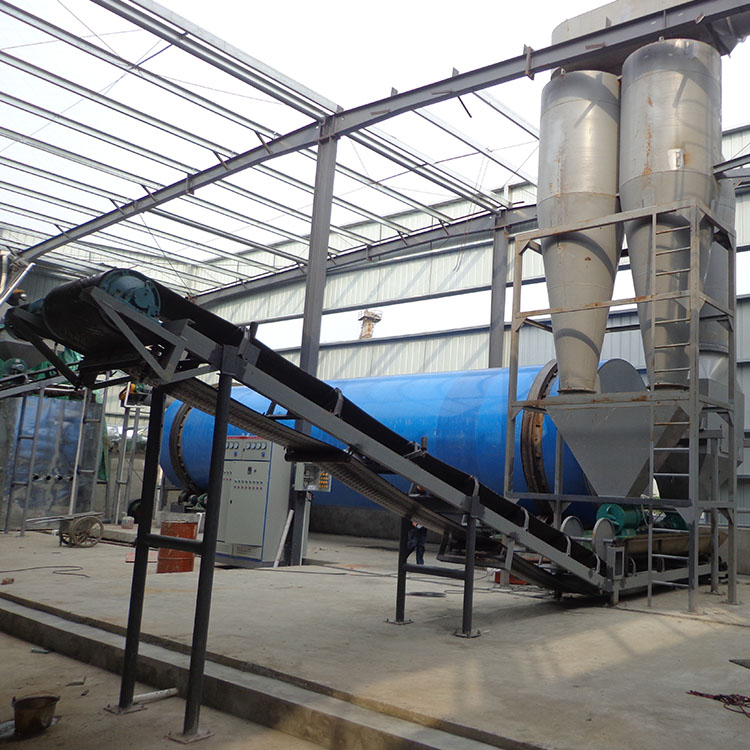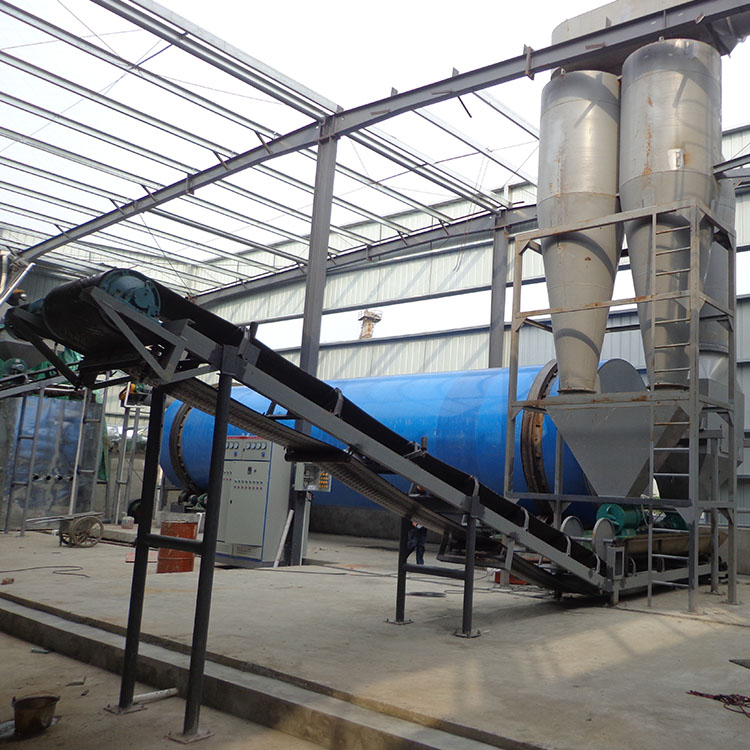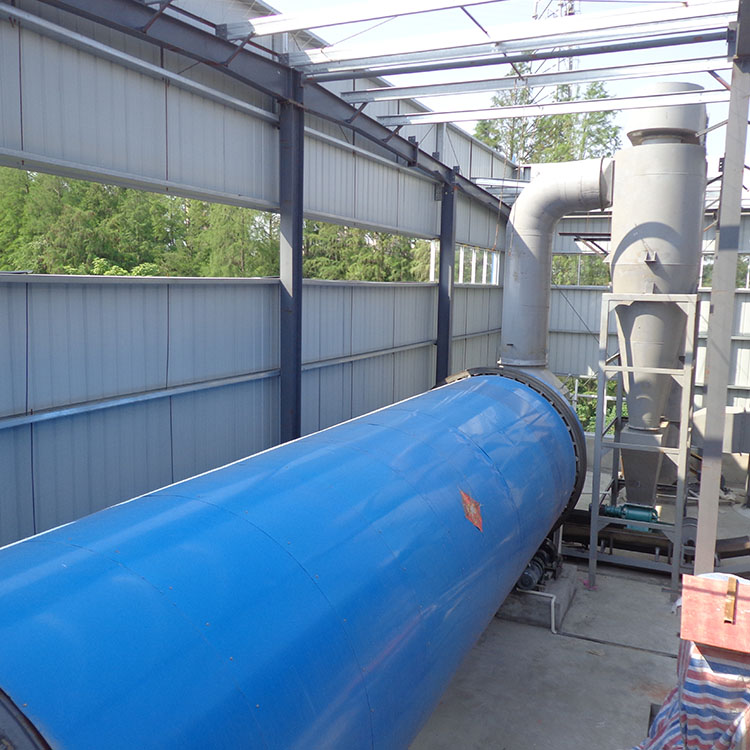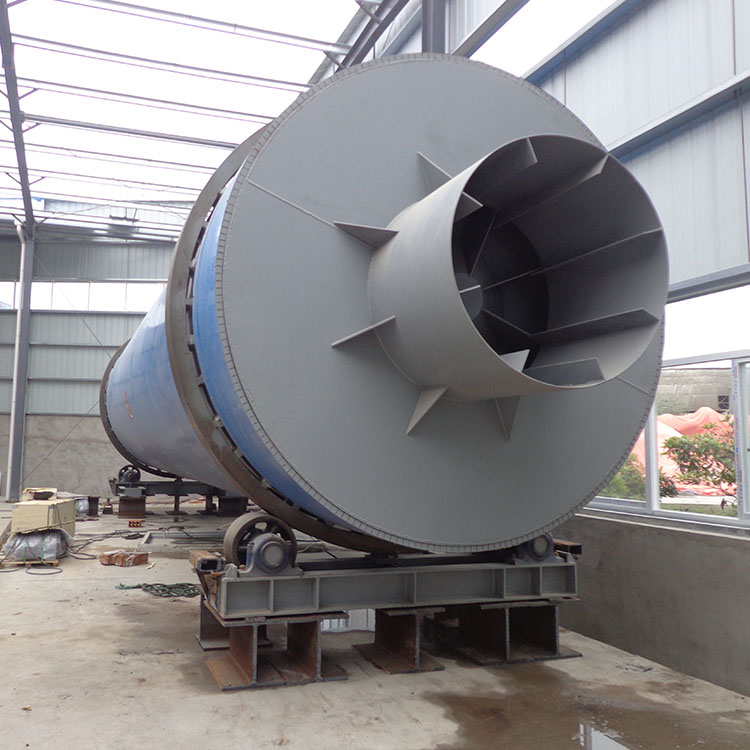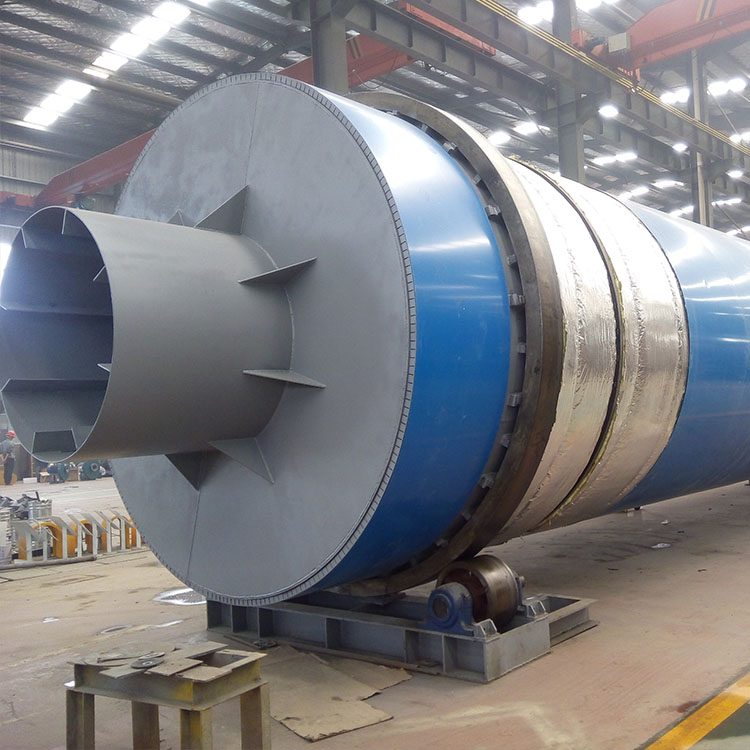 Three Layer Rotary Dryer
The three layer rotary drum dryer is special designed on the basis of single drum drying equipment and foreign three drum drying technology. It can reduce material drying energy consumption and expand production capacity. With latest three-layer drying process, the whole set of drying equipment has the advantages of reasonable design, excellent production, stable performance, advanced technology, high output, low energy consumption, small floor area and high degree of mechanization. After the improvement of our technicians, the applicability of three layer rotary drum dryer is further enhanced, and the drying effect of high humidity materials is excellent.
Main Features of Three Drum Rotary Dryer
1. It can meet the requirements of different users for particle size and moisture of slag materials
2. Large processing capacity, strong anti overload ability, less fuel consumption, low drying cost.
3. Concurrent flow drying method is adopted to achieve optimum drying effect. The material and heat source flow into the drying equipment from the same side, the outlet temperature of the dryer is low, and the thermal efficiency is high.
4. The new feeding and discharging device is used to eliminate the feeding blockage, discontinuity, unevenness and return of materials, and reduce the load of the dust removal system.
5. High technology content, self insulation of cylinder, thermal efficiency up to 80% (single-cylinder dryer thermal efficiency 35%), 68% coal saving than single-cylinder drying, output increased by 100%.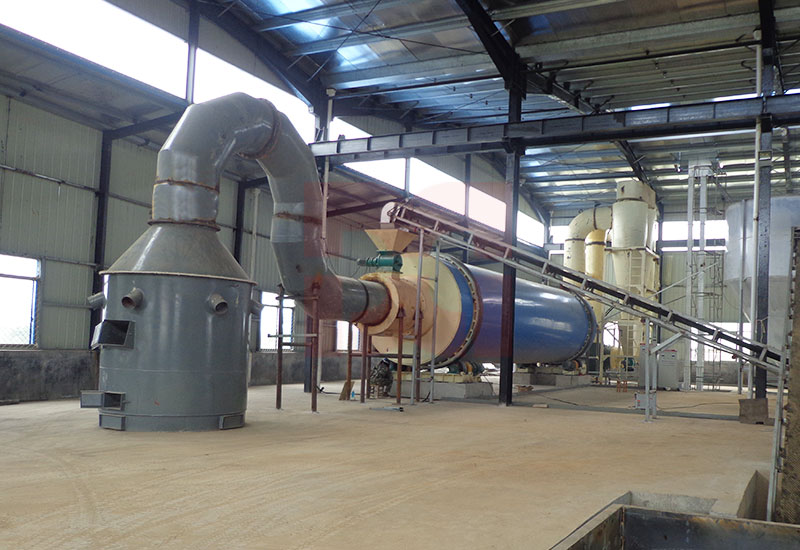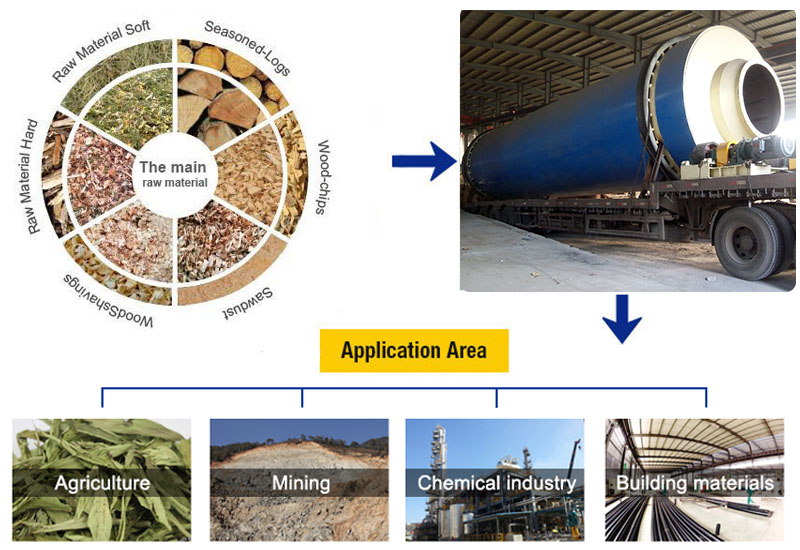 Three Drum Rotary Dryer Application
The three drum rotary dryer is special designed for wood shavings, wood chips, sawdust, rice husk, tea, herbal medicine, forage grass, marigold, and other light biomass materials. It is widely used in agricultural, building materials, chemical industry, and other industries.
Rotary Drum Dryer Structure
The wet materials enter into the inner layer of the rotary drum from feeding device to realize downstream drying.
Under the action of lifting board in the inner layer, the materials are continuously lifted and scattered in a spiral way to realize heat exchange. The materials move to the other end of the inner layer and enter into middle layer for counter current drying.
The materials are repeatedly raised in the middle layer, in a way of two steps forward and one step backward. The materials in the middle layer not only fully absorb the heat emitted by the inner drum, but also absorb the heat of middle drum. At the same time, the drying time is prolonged, and the materials achieve a better drying state here. Then the materials move to the other end of the middle layer and enter into outer layer for drying.
The materials move in a rectangular multi loop way in the outer drum. The dried materials move quickly and discharge outside under the action of hot air. The materials that do not achieve the drying effect cannot move quickly because of its own weight. The materials are fully dried in the rectangular lifting board, so as to complete the drying purpose.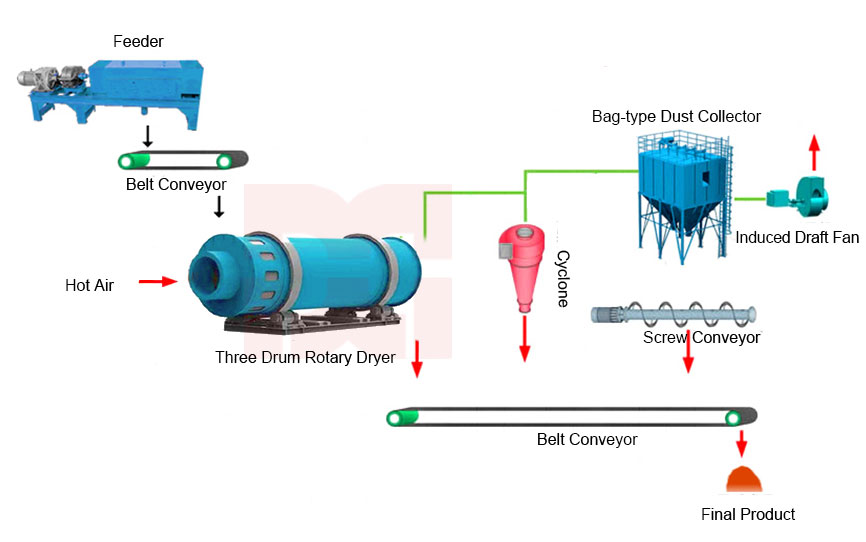 Technical Parameters
Model
DDSG2010
DDSG 2210
DDSG 2510
DDSG 2512
DDSG 2912
Output Capacity(t/d)
63.5-144.5
67.5-154.0
83.5-193.0
100-227.0
120.0-268.0
Vaporization(t/h)
1.850
1.976
2.427
2.912
3.432
Early moisture(%)
35-60%
35-60%
35-60%
35-60%
35-60%
Final moisture(%)
12-15%(adjustable)
Drying temperature
270℃±3
Total motor power (kw)
78
85
110
125
135
Total weight(kg)
25000
27000
35000
38000
43500
Plant area(m)
8m*18m
10m*18m
10m*18m
10m*20m
10m*20m